Are you finding a special street food when traveling on Vietnam tours? So you should not miss Vietnamese breads which are familiar sidewalk dishes voted as one of the best street food in the world. An outstanding one is Madam Phuong bread in Hoi An ancient town. What make it so attractive to any tourists who has ever visited in Hoi An?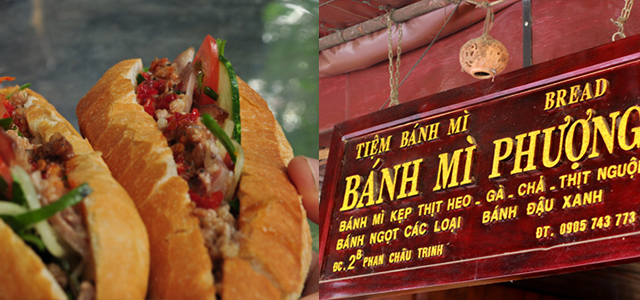 If you are finding a typical local food for your Vietnam tours by searching the words "The best banh my in Vietnam" on Google, bread Phuong Hoi An will be the first result. This food captivated two celebrity chef Anthony Bourdain (USA) and Cameron Stach (Canada). After enjoying, Anthony Bourdain had uttered "That's a symphony in a sandwich" while Cameron Stach had desired to explore the secret's bread as a such delicious cake. It is highly recommended on Foursquare and TripAdvisor because of it special taste.
With an crispy-hot-baguettes, delicious pork, and Pâté, together with unique homemade sauces, tomato, pickled vegetable, herbs and a freshly fried egg and spicy chili sauce, Madam Phuong bread has been operated for already for 25 years. Comparing with other restaurants, Banh mi Phuong is always crispy bread and stiffer, especially when combined with different ingredients to create a seductive flavor that is hard to forget. Perhaps so, Madam Phuong bread has always received the praise of tourists everywhere and usually appeared in international newspapers.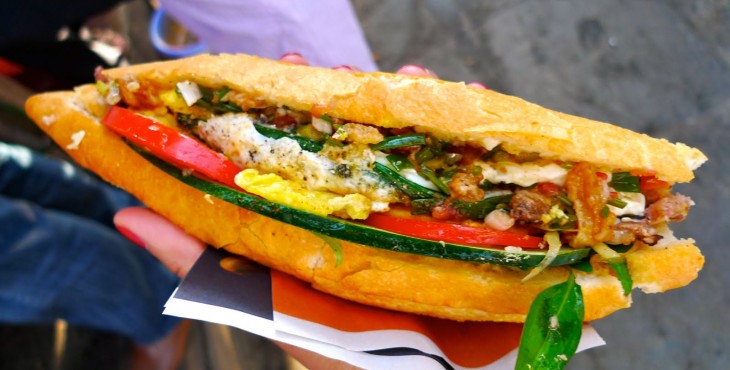 The bread has its own formula in a great mixture of baguettes in the western and Vietnamese way with many favors and raw vegetables. This is the reason why you will easily see the long queue of tourists waiting to buy bread from early morning to late night. Either local or international diners, the baguette is the perfect breakfast or lunch.
Located at 2B Phan Chu Trinh street, right in Hoi An ancient town area, Banh my Phuong provides dozens of different types of cheese, meat patties, bacon, sausages so you will have a wide range of your choice for the meal. Meanwhile, the most popular dish is the original grilled pork bread, combining of four types of pork, fresh herbs, salad, and the magic dressing coming in at just 20,000 VND (US$ 1).
For vegetarians, there are many kinds of vegetables, to be added and served with the bread as, cucumber, pickles, basil, cilantro, onion ... These ingredients make your vegetarian bread becomes more attractive but with only half price of the normal one.

To serve more Vietnam tourists, the owner has opened three more bread stores, one stays near Hoi An market, the others are located in Ha Noi capital. Do not forget to add a Phuong Bread into your Vietnam tour packages.