Pho (noodle soup)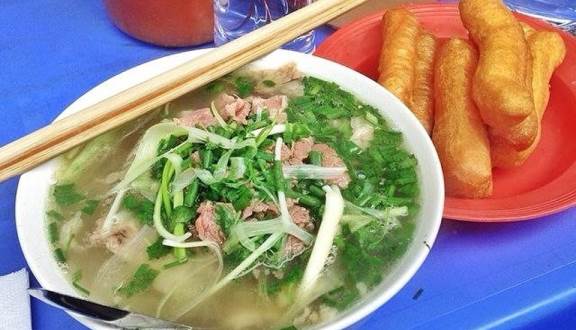 This famous Hanoi food is best enjoyed in Hanoi, where it was "invented" in the early 20th century. Pho or noodle soup appears anywhere from street vendors to high end restaurants. Some is served with chicken and some with beef. Each type of meat entails a variety of sub- dish, using from beef tendertoin to beef brisket, chicken wing to chicken thigh. The tip is look for the place where locals gather the most and you know where you should order and sit down.
Where to eat:
Pho Bat Dan is a famous local restaurants famous for its pho bo (beef rice noodle soup). Located in the Old quarter "jungle", the store easily stands out for the long line of people waiting to be served. You are highly recommended to join the local, line up for the pho bowl and bring it to a selected table to eat.
Cha Ca La Vong (Grilled fish with dill and tumeric)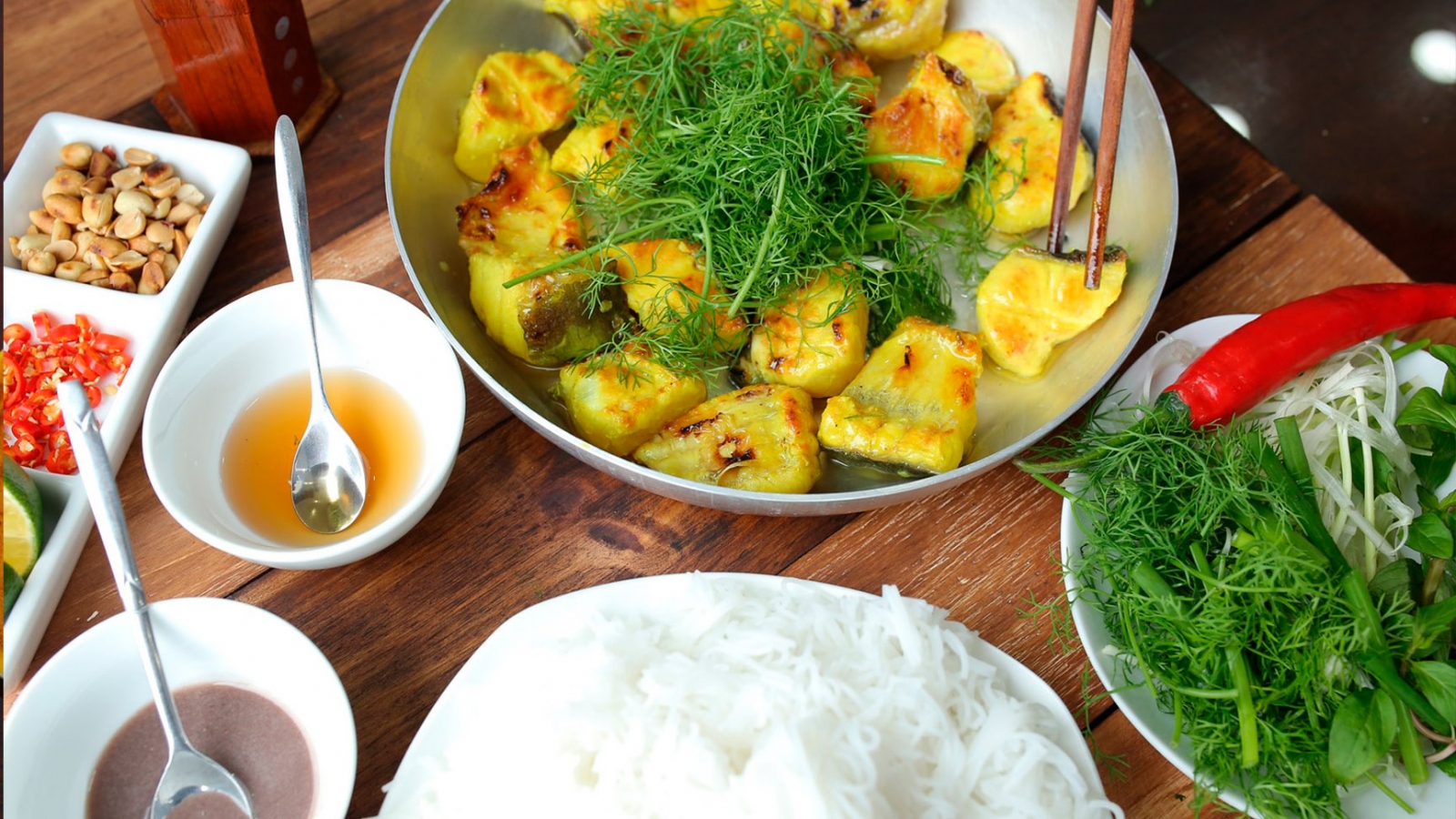 Cha ca is one of the unique specialties of Hanoi people and definitely a must eat one in Hanoi travel. Cha Ca La Vong is listed as one of the top 100 things you need to try before you die by many cuisine experts. It is grilled fish served with rice vermicelli, peanut, green onions, dills and shirmp paste. The fish is carefully chosen so that there are not too many bones and fishy smells. The dish is more tasty when enjoying with a glass of local beer.
Where to eat:
Cha Ca La Vong restaurant on 14 Cha Ca street is renowed nationally and internationally for its tradition and quality of serving the dish. It is much more expensive than other local food but the fact that you are sitting in one of the oldest house in Hanoi, served by the most traditionally styled chef is all worth it.
Bun Cha (BBQ pork and rice vermicelli)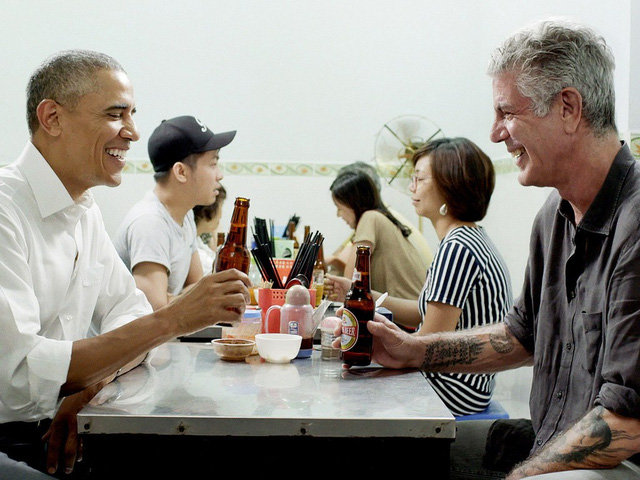 The dish consists of BBQ pork stips and balls served with rice vermicelli. It typically comes with a plate of fresh Vietnamese herbs and a bowl of dipping sauce. The sauce is made of the famous Vietnamese fish sauce combined with vinegar, lime, sugar, garlic, chili, green papaya and carrots.
Where to eat:
Bun Cha Huong Lien (Bun Cha Obama) which is aleady popular gained worldwide acclaim after President Barack Obama visited.
Bun Cha Dac Kim (no1 Hang Manh st) is a famous traditional restaurant for local people.
Banh Mi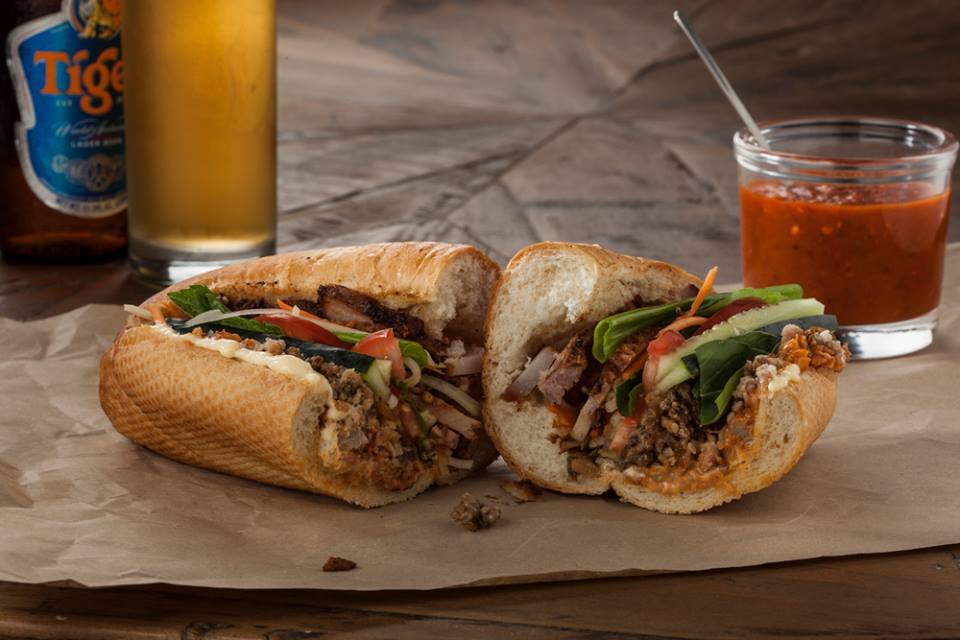 Nowhere is the French influence stronger on Vietnamese cuisine than the banh mi. The delectable sandwich is made from buttery pate, pickled daikon and carrot, cold cuts, cucumber and cilantro nestled in a freshly baked baguette. The sandwich is so popular, you will find variations that included fillings like BBQ pork, sausauge, and tofu.
Where to eat:
Banh Mi 25 at 25 Hang Ca street in Hanoi Old Quarter.
Banh Cuon (Rolled Cake)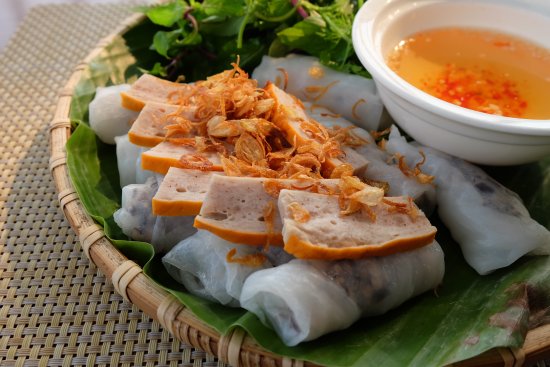 Great as a light breakfast or midday snack, banh cuon is a combination of groud meat (chicken, shrimp or pork), minced wood ear mushroom, onions, Vietnam ham, steamed beansprounds and cucumber that's wrapped in a steamed rice flour sheet. Its overall taste is very mild despite the savoury ingredients and you can also dip the banh cuon into special sauce from fish sauce.
Where to eat:
Banh Cuon Gia Truyen in Old Quarter at 14 Hang Ga street.
Banh Xeo (Pancake with shrimp and pork)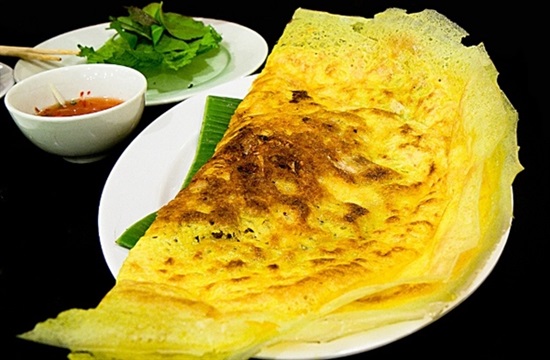 Banh Xeo is a crepe made from rice flour and coconut milk colored with turmeric and packed with a standard filling of mung bean paste, shell- on prawns, bean sprouts, and slices of boiled pork. The batter gets evenly spread across a large piping hot wok with a generous amount of oil, creating a crispy exterior that is folded in half when fully cooked. The result is a thin and savory pancake.
And it is important to mention that banh xeo is a Vietnamese finger foods. You will be wrapping up these slices in an array of herbs and dipping them into nuoc cham, sweetened fish sauce.
Where to eat:
If you want to sit on small plastic chair and table on pavement like a local, Doi Can street is the best choice.
Or Quan An Ngon restaurant is another good choice for you with elegant decoration and serve.