Being recognized 3 times as the Natural Wonder of the world for it values by UNESCO, Halong Bay is a worth-visiting landscape that you should not miss when traveling on Vietnam tours. Visiting this natural wonder, you will have opportunities to not only witness the breathtaking scenes of nature but also enjoy numerous interesting things to do in Halong Bay. Here they are: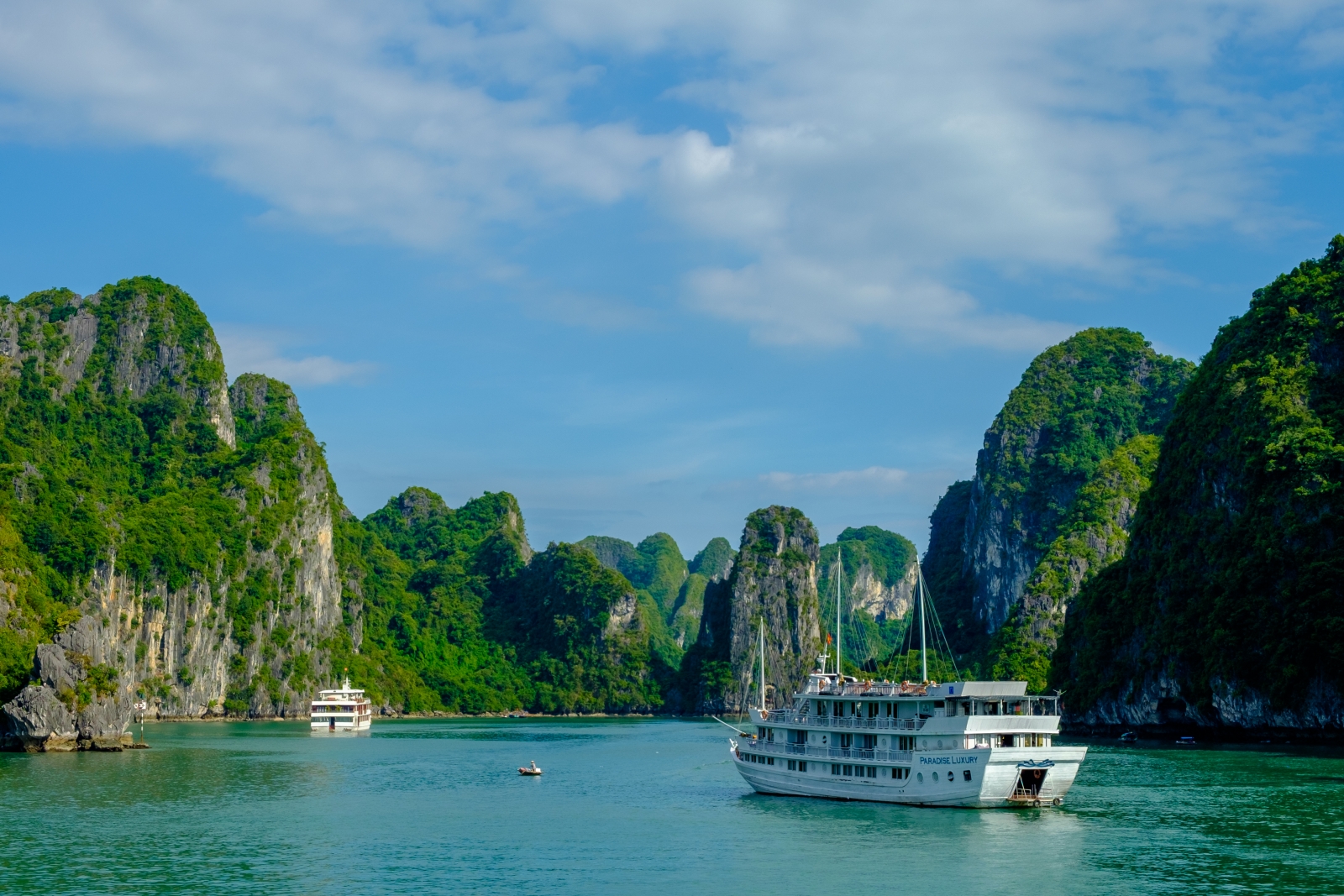 ---
1. Exploring Ha Long caves and grottos
It is a big miss when you come to Halong Bay but do not explore grotto and cave system there. The big and must-see sights including The Amazing cave (Sung Sot Cave), Paradise grotto (Thien Cung), Wooden stakes grotto (Dau Go) and etc. These caves are vast and truly beautiful with spectacular like Stars Wars meets Lord of the Rings. Once entering the caves, you are surrounded by corridors of rock, perfectly lit lofty open spaces and stalagmites.
2. Experiencing Ha Long cruise
Taking 2 days 1 night or 3 days 2 nights cruise trip on Ha Long bay, tourists can fully enjoy "the mysterious limestone caves on Halong Bay's bigger islands and the incredible sunsets" according to the advice of Mr. Stuart McDonald. Tourists can also enjoy various relaxing activities provided on the cruises with including luxury accommodation, restaurant & bar, massage, sunset on board, cooking class, tai chi class, etc. Overnight on Halong bay cruise is a cannot-miss activity that a Vietnam local travel agent always suggest for your Vietnam honeymoon tours.
3. Panorama viewing Ha Long bay on helicopter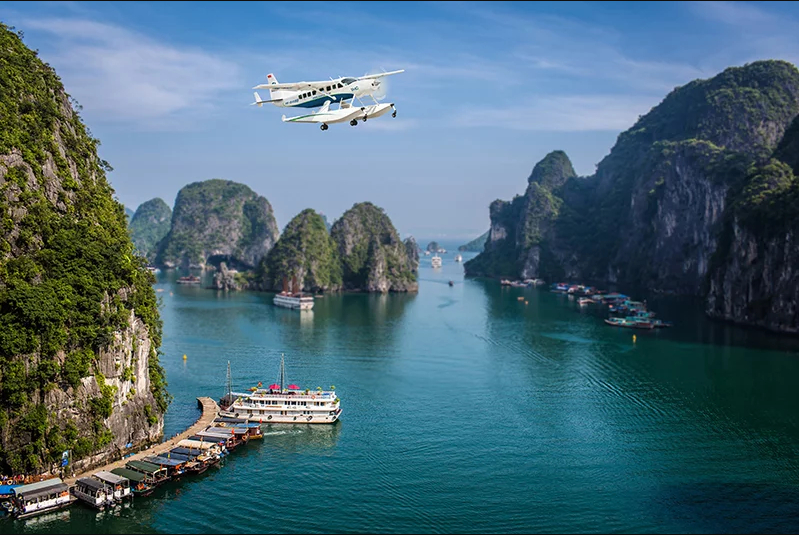 HaLong seaplane tour (also called air-taxi) is a new Vietnam tour itinerary that provide tourist more memorable moments on Ha Long bay. Taking part in this tour, tourists can get a bird's eye view of this marvel of nature at the height of 300 meters during 25 minutes. The setting under with jade-green sea water, white sand beaches, lime-stone islands will certainly make you strongly impressed.
4. Kayaking

This water sport should try at least one time through HaLong bay, one of the most ideal place for kayaking. Most cruises will carry kayaks or if not, they will reach a drop off point where tourist can hire out themselves. It is a closer insight into the bay's diverse nature of animals and mangroves as well as karsts limestone outcrops.
5. Swimming and scuba- diving
With calm and clear sea water, there is no better way to touch wild nature of Ha Long bay than swimming or diving. It is the real relaxing time in cool jade-green water while see the wonderful underwater world of this heritage site.
6. Climbing Ti Top island's top mountain
A best vantage points to catch in eyes Ha Long bay's beauty from above must be Ti Top Island's lookout. This is unique to other islands in the bay because it has a manmade beach.
7. Visiting floating village
Floating villages are unique cultural and seascape feature that draw the attraction of Ha Long bay. Tourists will have time interacting directly with friendly villagers who are the original inhabitants living on Ha Long bay for several generations as well as visiting floating pearl farms. This way, you are enjoying one of the most interesting things to do in Halong Bay.
8. Dining BBQ on beach
It is really a unique gastronomic experience that you hardly have anywhere else. Trying various fresh meat and seafood dishes, like roasted chicken, crab, clams, lobsters, lamprey, grilled beef rump and more, it is very promising to experience an exceptional and tasty meal in the bay. This is a special request, so you need to inform cruise's staff in advance to arrange and get the permision. Whichever way, if you are coming to Halong Bay, it would be such a waste not trying this feature out.