With the world's largest religious building Angkor Wat, Cambodia is a must-visit destination for those who interested in cultural exploration. Traveling between Vietnam and Cambodia is quite easy with numerous transportation options, including flights, buses, cars and boats. So how to travel from Vietnam to Cambodia? Scroll through this article and find out!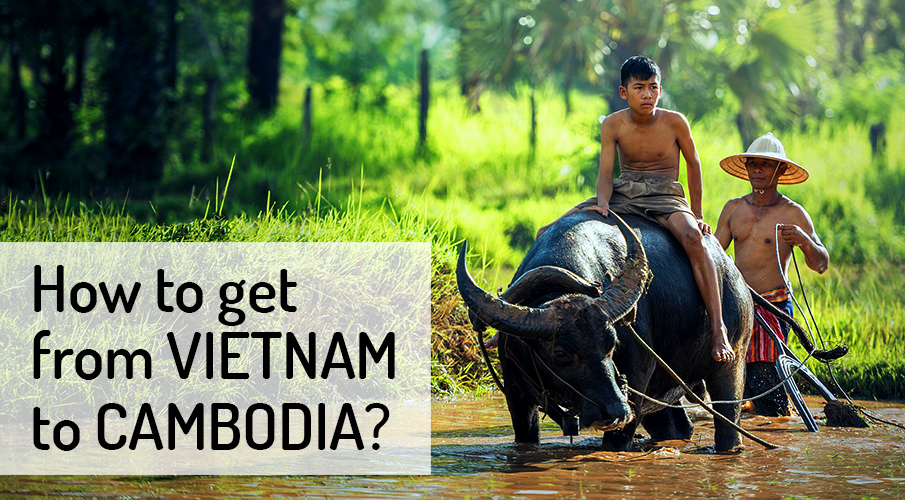 FLIGHTS
There are 2 major airports in Cambodia, one is in the capital Phnom Penh (PNH), another is in Siem Reap (REP), where the well-known Angkor Wat is located. Traveling from Vietnam to Cambodia by air is suitable for time-conscious people. You can book direct flight from Hanoi/Ho Chi Minh City to Phnom Penh/Siem Reap through flight carriers such as: Vietjet Air, Vietnam Airlines, Cambodia Angkor Air, Lanmei Airlines, etc. Flights may take between 1-2 hours and the process is relatively simple and hassle-free.
BUSES AND CARS
Being neighbors in Southeast Asia, Vietnam and Cambodia share a long border with a variety of international land crossings opened for foreign tourists to cross.
If you are a budget traveler, you can consider traveling from Vietnam to Cambodia by bus. The most popular and convenient border crossing between Vietnam and Cambodia is Moc Bai – Ba Vet, which is on the main bus route between Ho Chi Minh City and Phnom Penh. There are many bus providers offer this route (e.g: Mekong Express, Sapaco,…).
Below are some addresses where guests can purchase bus ticket to Cambodia.
* Mekong Express: 275F Pham Ngu Lao Street, Dist.1 – (+84-8) 3 837 3917

* Sapaco Tourist: 500 Nguyen Dinh Chieu Street, Ward 4, Dist.3 – (+84-8) 3 832 2038
The drive may take approximately 6 hours, including a border stop and with the affordable fare ranging from USD13 – USD 25 for seat buses and USD 20-35 for sleeper buses.
Other crossings are Tinh Bien/ Phnom Den, Xa Xia/ Prek Chak, Le Thanh/ O Yadao crossings are better choices for motorbike ride.
BOAT
If you have plenty of time, traveling from Mekong Delta to Phnom Penh on boat through Vinh Xuong/Samnor border crossing is the best way to explore this beautiful part of Vietnam & Cambodia. This border crossing links Vietnamese town of Chau Doc and Phnom Penh – Cambodia. Both slow and fast boat services are available. Book a cruise tour, lay your back on the comfortable river cruise and enjoy the ride. There many tour options with different durations ranging from 2 days to 4 days.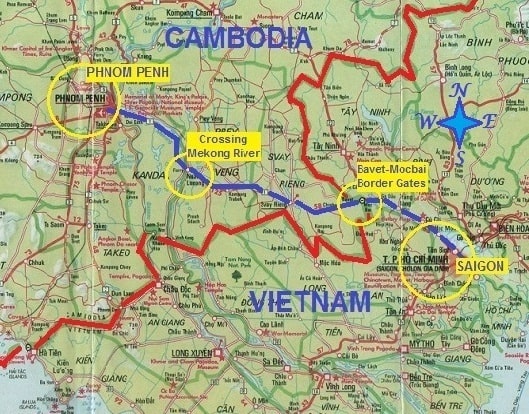 Visa Procedure
Visa procedures to cross Cambodian international checkpoint from Vietnam is simple and convenient. Vietnamese travelers have to presents passport to cross the gate, while international tourists may require Cambodia visa obtained on arrival at these checkpoints. E-visa which is obtained online from Cambodian Ministry of Foreign Affair is also permitted to use at these checkpoints.
On the way back to Vietnam, you need to have a visa ready to show to Immigration office at the border check point. Vietnam visa on arrival is not available with border crossing.
Interestered in Vietnam - Cambodia tours ? Contact our travel consultants via email: sales@indochinacharmtours.com