Kayak services on Ha Long Bay in the northern province of Quang Ninh will resume from May 1, said Chairman of the provincial People's Committee Nguyen Duc Long. 
Halong City announced on March 29 that kayak rental service on Halong Bay would be halted from April 1. Local authorities said the number of kayaks in the bay had been increasing rapidly while some service providers had not been approved to provide the service. Some providers even overcharged tourists, putting the reputation of Halong at stake.
However, the ban faced stiff opposition from tourism firms because kayaking contributes to the richness of tourism products in Halong Bay. The Ministry of Culture, Sports and Tourism later asked Quang Ninh Province to reinstate this service. According to a report on socio-economic performance in the first four months of 2017, Quang Ninh saw some 4.6 million tourists coming, up 12% over the same period last year, including nearly 1.7 million international visitors, up 9%. Tourism revenue is estimated at over VND5,900 billion (US$260 million), up 20% year-on-year.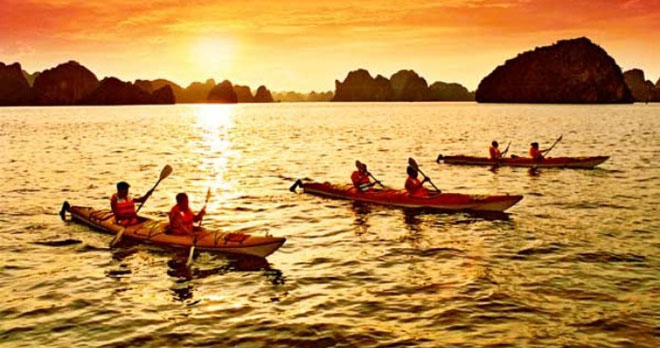 The provincial authorities have agreed to add kayaking into the list of tourist products in Ha Long Bay, which are available in eight tour routes, including Ba Hang, Luon cave, Dong Tien lake, Trinh Nu cave, Vung Tung Sau, Cua Van, Vong Vieng and Cong Do-Hang Co.
Chairman Long asked kayak tour operators to ensure safety for tourists while the Ha Long municipal People's Committee must issue regulations on safety requirements for kayaks and small boats. Only those meeting requirements and signing contract with the municipal authorities are eligible to offer kayak services.
From hereby, 1 May, tourists can explore Ha Long bay by kayaking  for their Vietnam tours. Don't miss this amazing activity of your Halong trip.