Located in the Gulf of Thailand, Koh Samui is the third largest island in Thailand, covering an area of 247 square kilometers. Koh Samui is surrounded by 80 small islands, most of which are uninhabited. Because of the pureness and cleanness, Koh Samui has become an ideal tropical island for tourists all over the world. In Koh Samui, you can choose to either have a tour on the beaches of the main island or go to some small offshore islands around Koh Samui. Here are some recommended beaches and islands for your Koh Samui tour.
Recommended Beaches in Koh Samui
Chaweng Beach
Chaweng Beach is located on the eastern coast of Koh Samui. As a 7 km long crescent-shaped white beach, Chaweng Beach is the longest and most bustling beach in Koh Samui. The sand on Chaweng Beach is clean and soft; the sea water is clear and green; the scenery is beautiful and attractive. Along the beach, there are many restaurants, bars, souvenir shops and diving schools. The supporting facilities, such as banks and hospitals, are also complete. Aquatic recreation facilities can be seen everywhere on Chaweng Beach, including snorkeling. The nightlife on the beach is also rich and you can spend a wonderful night here.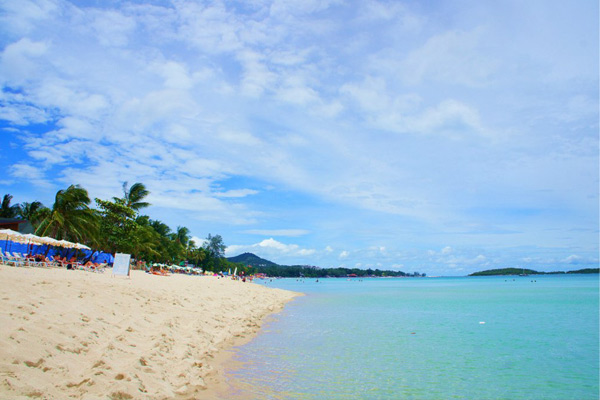 Hat Lamai
Located to the north of Chaweng Beach, Hat Lamai is the second biggest beach on Koh Samui. Hat Lamai Beach, about 3 km, is shorter than Chaweng Beach, but it is more original and natural. The sea water is so clear that you can see the bottom. It is very suitable for swimming and other water sports at Hat Lamai. Hin Ta Hin Yai, a famous landmark of Koh Samui, is also on Hat Lamai. Hin Ta Hin Yai is two oddly shaped rocks grown by natural weathering, which looks like human's sexual organs. Compared with Chaweng Beach, Hat Lamai is quieter. It is a great destination for your vacation and your honeymoon. In addition, as you pay the same price, the hotel room of Hat Lamai is larger than that of Chaweng Beach.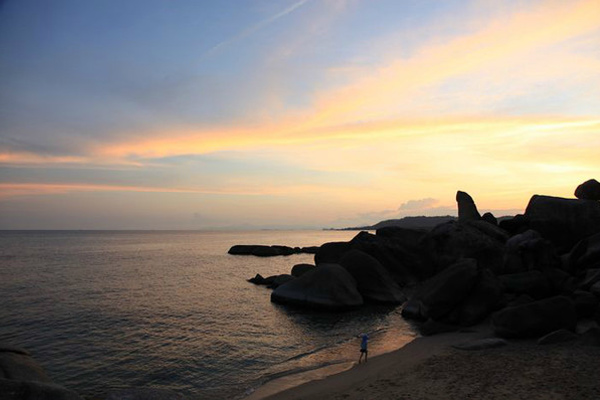 Mae Nam Beach
Mae Nam Beach is located on the northern coast of Koh Samui, near BoPhut Beach. The sand cape, which is between Mae Nam Beach and BoPhut Beach, is the best place for viewing sunset in Koh Samui. The sand on Mae Nam Beach is light tan. The quiet and smooth sea of Mae Nam Beach is perfect for surfing. On Mae Nam Beach, you can not only view Ko Phangan on the opposite side, but also watch the sunrise over the sea. Near Mae Nam Beach, there are also some local resident villages, such as Mae Nam village and BoPhut village. Mae Nam pier is a main pier on Koh Samui. There are many boats setting for other offshore islands at Mae Nam pier. There are also many star hotels on Mae Nam Beach. For example, the well-known W Hotel is on Mae Nam Beach. How enjoyable it is to lie on the beach chair, drink fresh coconut juice, watch the glamorous sunset and take beautiful pictures on such a quiet and clean beach.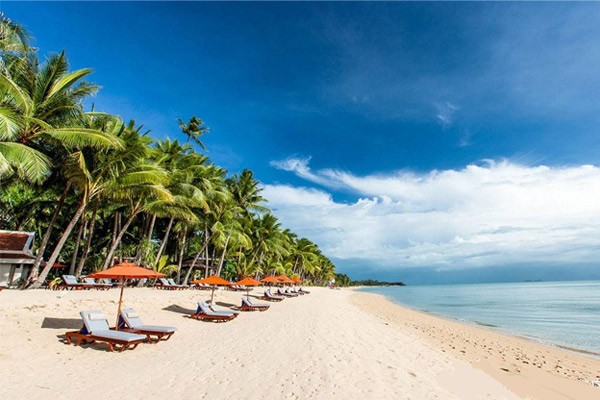 BoPhut Beach
Located on the northern coast of Koh Samui, BoPhut Beach is the oldest settlement on Koh Samui. BoPhut Beach, about 2 km long, is a haven far from the noise and bustle. There are few travelers visiting BoPhut Beach. So, you can enjoy a quiet and private time here. Mae Nam village, which is on the west of BoPhut Beach, is a wonderful place for snorkeling. BoPhut Beach is also a perfect place for viewing the sunset.
Recommended Offshore Islands in Koh Samui
Ko Tao & Ko Nangyuan
Ko Tao is the best diving site in the Gulf of Siam, Thailand. Abundant in marine landscape and coral reefs and with clean and clear sea water, Ko Tao is with excellent diving environment. Ko Tao is regarded as a paradise for snorkeling fanciers and the best snorkeling point in Koh Samui.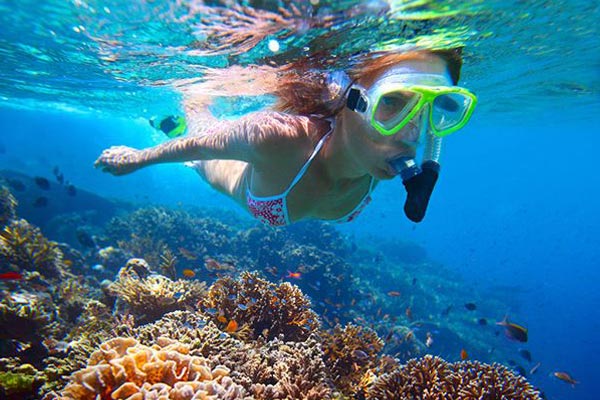 Ko Nangyuan is an offshore island near Ko Tao. It only takes about 15 minutes to get to Ko Nangyuan from Ko Tao. Ko Nangyuan is made of 3 small islands which are connected with long and thin beaches. Ko Nangyuan is called as the most beautiful mini island in the world. The whole island is like a specially designed theme park. You can go diving, go swimming, go climbing and do sunbathing on the island. Ko Nangyuan has a good place for snorkeling. The water is crystal clear and there is a large amount of sea cucumber lying on the bottom of the sea. Snorkeling to the open seas, you can see many coral groups and fishes of different colors and shapes.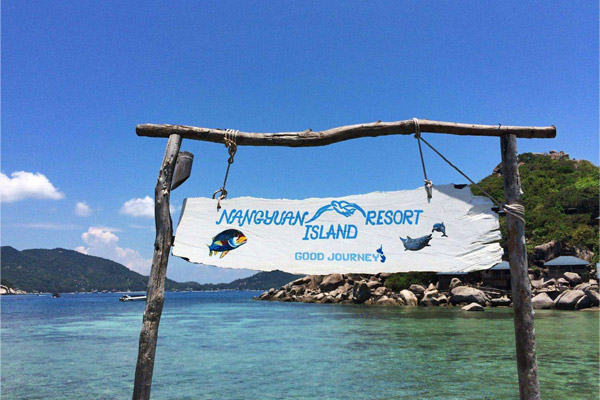 Ang Thong Islands
Mu Ko Ang Thong National Park consisting of 42 small islands is a wildlife reserve. Located in the west of Koh Samui, Mu Ko Ang Thong National Park was approved as the second national ocean park in Thailand. There are many limestones on those small islands. There are also many beautiful coral reefs. The tall green plants and the high blue sky constitute splendid scenery. In the past, Ang Thong Islands are the navy forbidden area. But, now, there are some residents living here. The calm bay is a wonderful place for diving, swimming and boating. In addition, you can also view the jungle scenery near the islands, watch wild gibbons and other wild animals, visit karst caves and have an experience of canoe adventure.
Koh Phangan
Koh Phangan is one of the three best places for Rave Party in the world. At the full moon, backpackers and electronic music lovers from all over the world will gather together at Koh Phangan. It is the tradition to coat the whole body with fluorescent pigment and to dance at the full moon party. You will be immersed in the fluorescent beaches, gorgeous flames, exciting beer and cheerful atmosphere.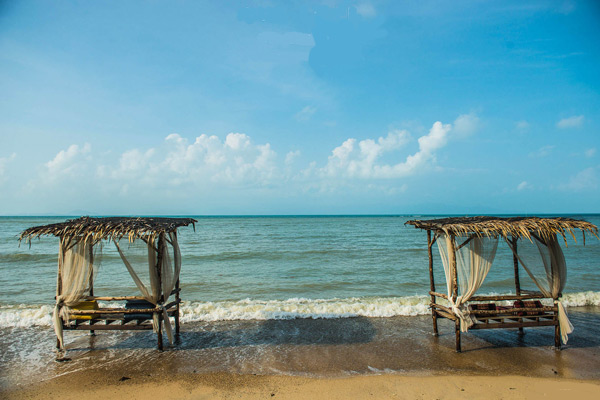 Here, we have recommended 4 best beaches and 3 popular offshore islands in Koh Samui. Each beach and each island have its own highlight. Chaweng Beach has a 7 km long white beach and is the most bustling place in Koh Samui. Hat Lamai is a very quiet and natural beach which is suitable for swimming. Mae Nam Beach is the best place for sunset viewing. BoPhut Beach is great for snorkeling. Ko Tao and Ko Nangyuan are the paradise for snorkeling lovers. On Ang Thong Islands, you can see wild gibbons and other wild animals. On Koh Phangan, you can enjoy the best full moon party. Choose your ideal traveling places according to your own preferences and you will have a wonderful tour in Koh Samui.
See more tour: