"How to apply for visa" is one of the very first questions that come to mind when one prepares for his or her trip, not except Vietnam tours. Most of visitors to Vietnam require to obtain a Vietnam visa and Passports must be valid 6 months after their planned exit from Vietnam. Take a look at following Vietnam visa tips.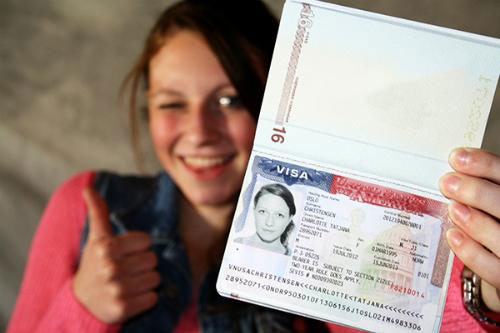 ---
You may already know that a tourist visa is a single entry visa for one month staying in a country unless a multiple entry is requested. To be more details, for example if you exit Vietnam for a trip in Cambodia and then come back Vietnam, you will have to get a new visa to Vietnam to re-enter the country if you just get Vietnam single entry visa. Therefore, it needs to pay attention to your Vietnam Cambodia itinerary before applying for single or multiple Vietnam visas. Tourist visas can be extended easily in Vietnam.
Vietnam now has been more generous in issuing Vietnam visas to foreign tourists. There are two ways to get a visa to Vietnam:
Visa Before Arrival in Vietnam
You can apply directly at the Vietnam embassy or Vietnam consulate in your own country. It may take around from 4 to 10 days.
Documents requirement and procedure for Vietnam tourist visas:
• Passport of at least 6 months valid.
• Visa application form.
• 2 photos of 4*6 inch.
The visa application form may vary among Vietnam Embassies in each countries, so you need to take the right form from the Vietnam Embassy or Vietnam consulate where you will apply for the visa. Submit this form filled with your original passport, 2 or 3 photo and visa fee, then waiting for acceptance.
Note: A tourist visa to Vietnam is normally a single entry visa. If you desire to apply for a multiple entry Vietnam tourist visa, you should double-check your visa stamp in your passport carefully when collecting your visa from the Vietnam embassy or Vietnam consulate.
Vietnam visa on arrival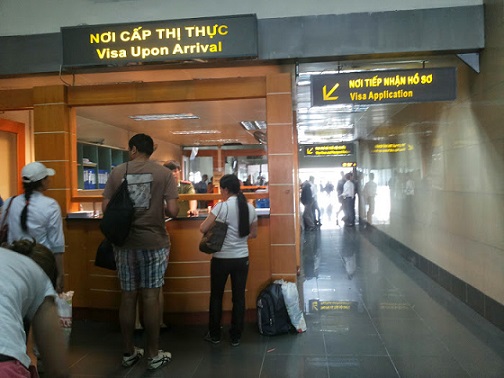 Another way, visitors can get visa on arrival at Vietnam 's international airports including Noi Bai Airport in Hanoi capital, Da Nang airport in Da Nang city and Tan Son Nhat airport in Ho Chi Minh city. It costs from $ 25/ time for sigle entry. But remember that, to apply this type of visa, you need to bring together with an invitation letter which your Vietnam custom office sent you. Print a copy to show before aboard or being needed.
Big Note: To fly to Vietnam, you have to have Vietnam Visa or Visa Invitation Letter issued by Vietnamese custom office. Some clients make the wrong think that they can have visa on arrival but forget invitation letter. That is the reason why some travelers could not get on the airplane for the flight to Vietnam.
Document requirement
• Full name on your passport.
• Gender.
• Passport number.
• Date of issue and expiry.
• Place of issue
• Date of birth.
• Nationality.
• Date of arrival.
• flight number and time.
• Fax number or email.
Procedure for Vietnam visas:
When you arrive Vietnam airport, you still need to fill a form, 2 photos and $ 25 for stamp fee per person. It may take you from one hour to more than to get visa stamp because of a big group. That is inconvenient for you to wait at arrival counter at the airport after a long flight.
List of countries exempted a Vietnam visa:
Visa-free for 30 days:Laos, Cambodia, Thailand, Malaysia, Indonesia, Singapore
Visa-free for 21 days:Philippines
Visa-free for 15 days:Japan, South Korea, Denmark, Russian, Sweden, Norway, Finland, UK, France, Germany, Italy, Spain (*)
Visa-free for 14 days:Brunei, Myanmar
Note: If citizens from (*) countries wish to re-enter Vietnam under visa exemption program again, the second visit cannot be ealier 30 days from the first visit.
Exception
The visitors to Phu Quoc Island may stay without a visa for no more than 30 days. This visa waiver program is also applicable to those traveling to the island through any international ports of entry (air and sea).
The holders of APEC Business Travel Card (ABTC) are granted visa-free access to Vietnam for no more than 60 days.
The citizens of Armenia, Algeria, Argentina, Bangladesh, Brazil, Bulgaria, Chile, Colombia, Dominican, Ecuador, Egypt, El Salvador, France, Hungary, India, Iraq, Japan, South Korea, Mexico, Myanmar, Moldova, Mongolia, Montenegro, Morocco, Mozambique, Pakistan, Panama, Paraguay, Peru, Russia, Serbia, Seychelles, Singapore, Slovak, Slovenia, South Africa, Sri Lanka, Tanzania, Tunisia, Turkey, Ukraine, UAE, Uruguay, Venezuela holding diplomatic or official passport may stay in Vietnam, visa free, for maximum of 90 days.
The citizens of Angola, Azerbaijan, China, Croatia, Kazakhstan, Myanmar holding diplomatic or official passport are granted visa-free entry for 30 days
The citizens of Afghanistan, Albania, Belarus, Cuba, North Korea, Nicaragua, Romania holding diplomatic or official passport are exempted a visa to Vietnam. The citizens of Uzbekistan holding diplomatic passport could stay in Vietnam for free visa for 60 days.
The citizens of Czech, Estonia, Germany, France, Israel, Italy, Poland, Spain, and Switzerland holding diplomatic passport are granted 90 day stay without a visa in Vietnam.
The citizens of Uzbekistan holding diplomatic passport are exempted a Vietnam visa for 60 days.
The citizens of Iran are allowed to visit Vietnam without a visa for 1 month if holding diplomatic passport.
Contact us sales@indochinacharmtours.com if you need any support about visa from Vietnam local travel agent