Ninh Binh is one of the most famous destinations in Vietnam. Visitors who come to Ninh Binh will be surprised at the unique beauty in here. Ninh Binh is attractive to not only domestic visitors but also international visitors. Here are the top 5 best attractive destinations for traveling in Ninh Binh.
1. Phat Diem Stone Cathedral
Phat Diem Stone Cathedral was built of stone and wood in all 24 years and symbolized a rich religious life. Phat Diem Stone Cathedral (Kim Son, Ninh Binh) is an ancient and beautiful church in Vietnam with a special architecture such as: constructed completely by stone, harmoniously combined between Western church architecture style and Vietnamese religious buildings.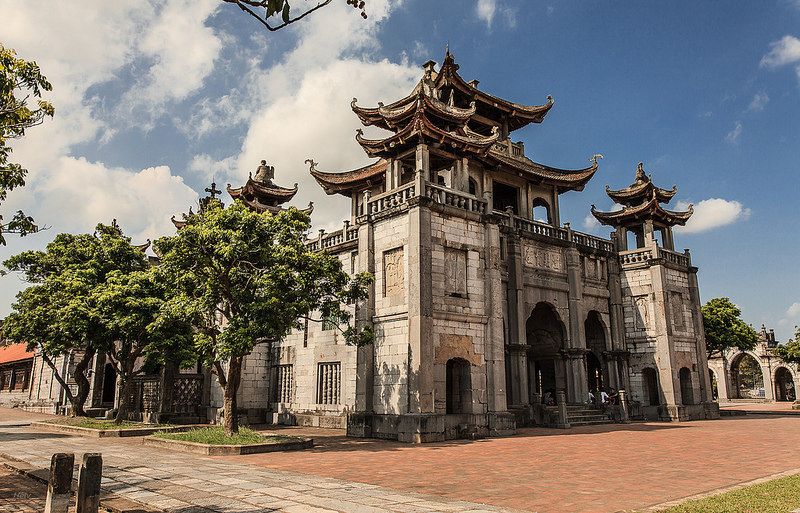 2. Trang An Eco-tourism Complex
Trang An - "Ha Long Bay on the island" is the perfect destination for who loves nature and discover the magnificent caves of Ninh Binh. This place has been recognized as unique by UNESCO and designated as "Trang An Scenic Landscape Complex World Heritage Site". Visitors come here to discover many caves, plant, mountains, valleys, rivers, forests and historical monuments. When you seat on a boat around Trang An, tourists have a chance to go through many grottoes for example Sang, Toi, Com, Lang, Vong, etc. These grottoes with different stalagmites make tourists admire.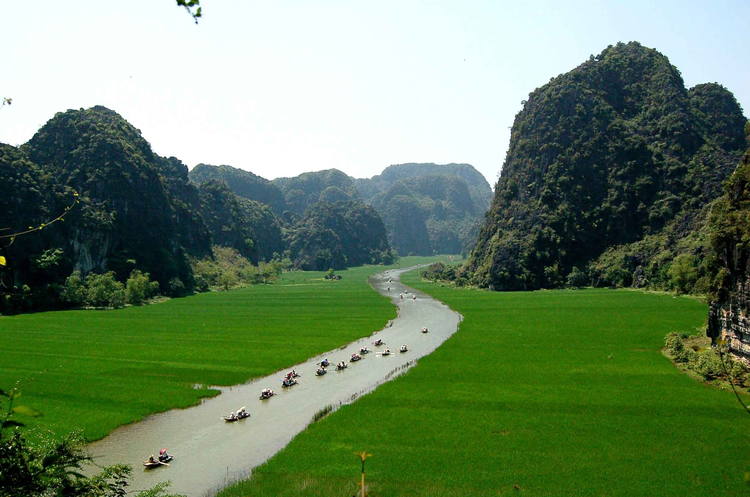 3. Bai Dinh Pagoda
Bai Dinh is a complex of pagodas in Vietnam the largest with an area of 700 hectares and one of the most important centres of Buddhism in the country and also South-East Asia. Bai Dinh pagoda owned 8 records: the biggest gilded bronze Buddha in Asia, the longest Arhat corridor in Asia, the largest bronze bell, the largest jade well in Viet Nam, the Temple has Arhat statues at most, the largest pagoda area in Viet Nam, The largest copper Maitreya statue in Asia, the Temple has Bodhi Tree at most in Viet Nam.
4. Cuc Phuong National Park
Cuc Phuong is the first national park with a total area of over 22000 ha and one of the most important sites for biodiversity within the country.Cuc Phuong has tropical forest ecosystem diversity with 89 species of mammals, 300 species of birds, 120 species of reptiles and amphibians, 60 species of fish and nearly 2000 species of insects. There are many species in the park are listed on Vietnam Red Book as endangered species such as the clouded leopard, fire leopard, bear, and black gibbon. Visitors can be surprised by the thousand years tree. Come to Cuc Phuong national park, Visitors also can choose the different types of travel such as leisure travel, adventure travel, hiking, trekking, etc.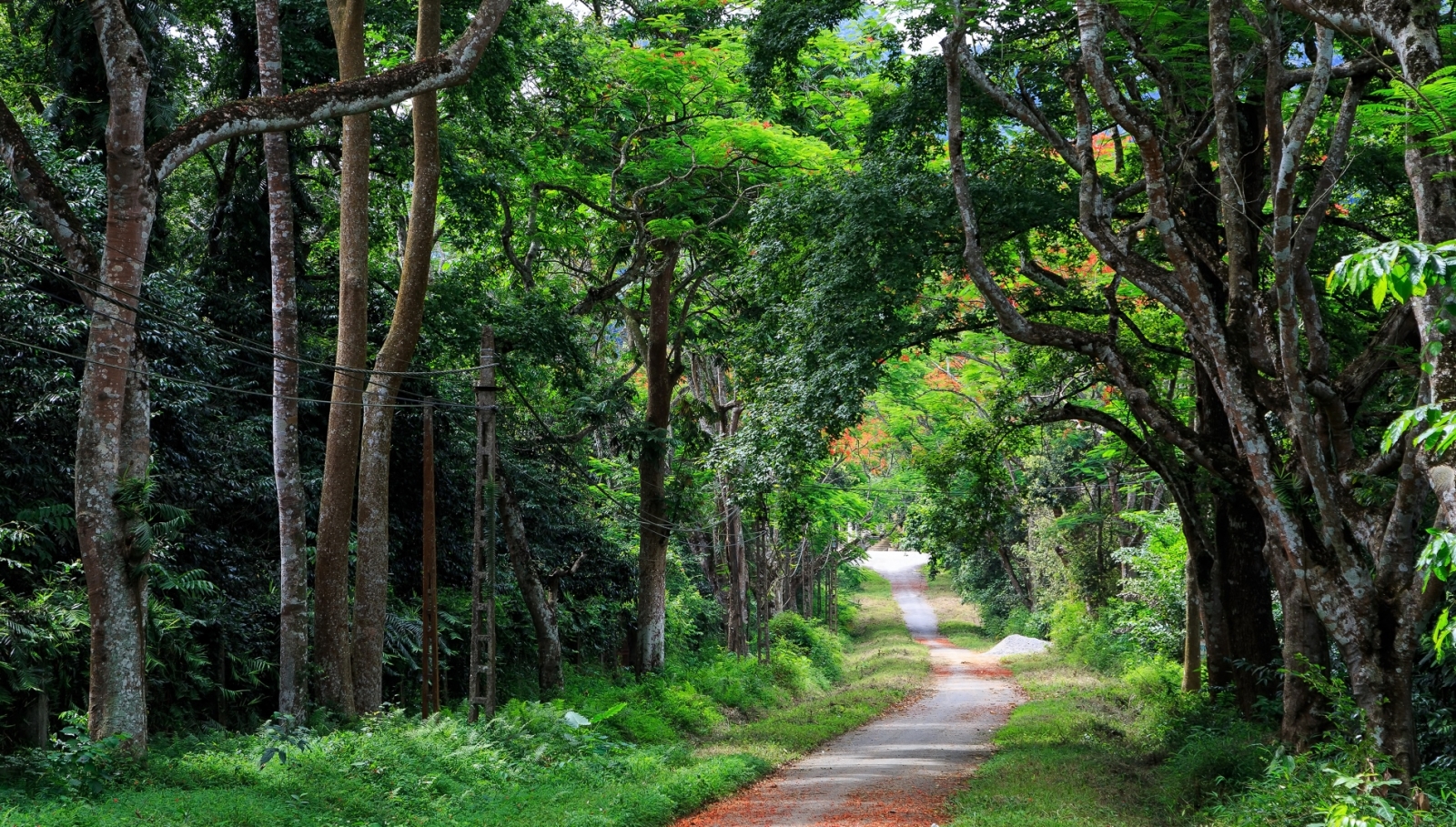 5. Van Long Nature Reserve
Van Long has become a popular destination for tourists to choose when traveling to Ninh Binh. Van Long nature reserve with an area of more 3500 ha of wetland is the largest natural reserve of wetlands. At the Van Long forest, there are 722 species of plants. In particular, it has 8 species recorded in Vietnam Red list. Moreover, Van Long Nature Reserve is known for many beautiful grottoes such as Ca grotto, Bong grotto, Chanh grotto, Rua grotto, etc. Animals have 39 species, 12 species of rare animals such as white shorts langur accounted largest number in Vietnam, chamois, Bengal slow Loris, Asian black bear, stump-tailed macaque… In the 9 species recorded in Vietnam List such as king cobra, water monitor, oriental Rat snake, lizards…If having Van Long Nature Reserve trip, you can seat on a boat and enjoy anything in here.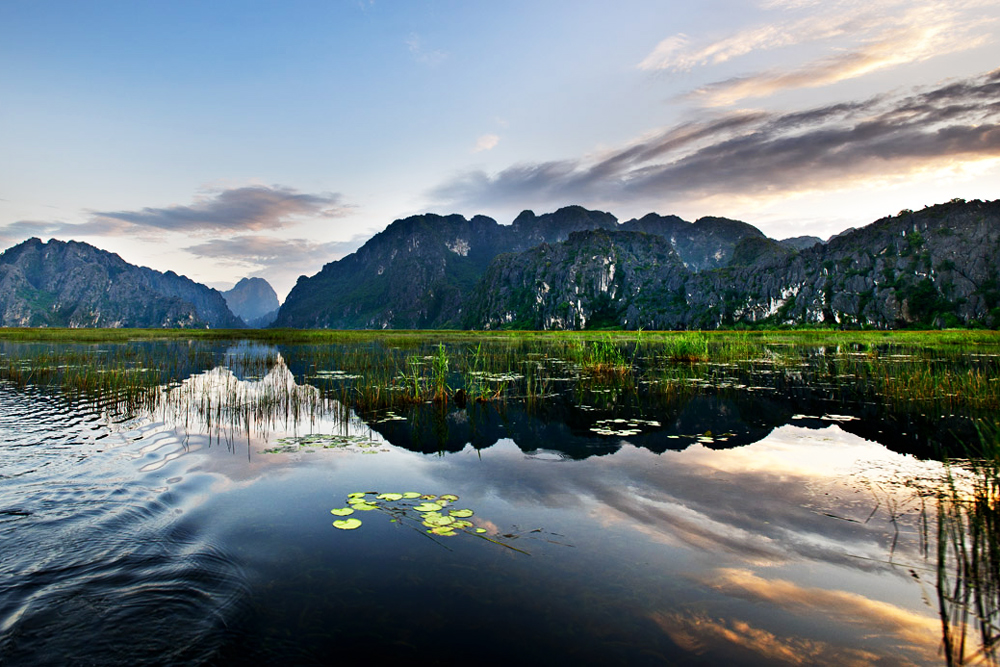 Book your Ninh Binh tour
with IndochinaCharmTours to get the most of your trip!