1. What tourist can do?
After lunch, the cruise will take tourists to visit most famous attractions on the bay which makes Halong bay named in one of seven new wonders of the world such as: Trong Mai islet, Thien Cung cave, Me Cung cave, Sung Sot cave or Titov island.
For some tours, tourist have chance to discover fish man life in fishing village- which is quite strange for most of foreigners.
After dinner, basing on your own, you can choose to lie on sundeck and enjoy a cup of tea, coffee or champion. Especially for people who love quiet space, this option is absolutely satisfy them.
Another interesting activity is squid fishing which is more popular in the spring. If you catch one, you can ask chef on board to cook it for you and let's enjoy your achievement!

2. Will seasick be a problem?
After a long journey on the bay, the cruise will move to anchor point. The cruise will change from big engine to slighter one and be anchored so tourist will not face the feeling or seasick. Even in daytime itinerary, the cruise sails slowly for tourist can take magnificent pictures of the bay.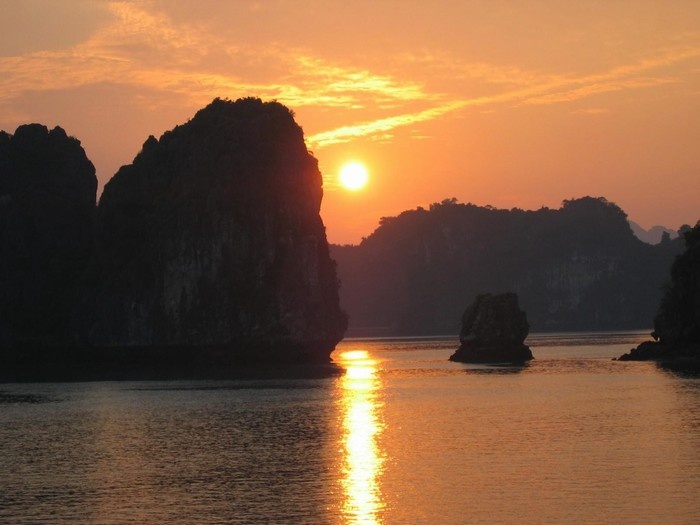 3. What belongings should be carried?
A room on cruise is nearly same with a hotel room which is fitted with all amenities such as face towel, bath towel, soap, shower gel, comb, brush, roasted cream, shampoo. So tourist can bring their own sun glasses, sun block, wide brim hat, insect repellents, swimming suites (in summer) or warm clothes (in winter) and original valid passports.
Although cruise fare includes mostly everything, tourist still should carry extra cash for personal expenditure such as drinks at bar, snacks or other personal services.