Try staying overnight on the mountain to capture Mau Son emerging through the fluffy morning clouds.
Mau Son Mountain is located in Loc Binh District, about 30km from Lang Son City to Mau Son Resort. With the wind whistling up and the cloud floating down, the sky seems within hands reach. The panorama from the highest peak in Lang Son region is like a Chinese ink drawing. To the north is Ninh Minh, China, to the east is Na Duong and to the west is Dong Dang, all merging beautifully into one spectacular landscape.
The area is endowed with a biodiversity system with more than 1,500 hectares of primeval forest which is home to many rare flora and fauna species. There are many streams from the peak to the foot of the mountain, creating magnificent and splendid waterfalls.
Mau Son was formerly an ideal destination for vacations with many spacious and luxurious villas in Tam Dao and Sapa. However, during the revolution wars, many of the villas were destroyed.
Visitors to Mau Son have an opportunity to enjoy the wonderful landscape, fresh atmosphere and learn about local tradition and culture by joining in the daily life of some ethnic minority groups.
Thanks to the favorable climate, Mau Son can offer tourists several specialties such as peach, Che Tuyet tea, and Mau Son wine, which is processed using Mau Son's plants and water sources from the mountain.
Mau Son rises more than one kilometer above sea level in Lang Son Province, 170 kilometers (106 miles) to the northeast of Hanoi. Visitors here can experience spring, summer, autumn and winter all in a single day.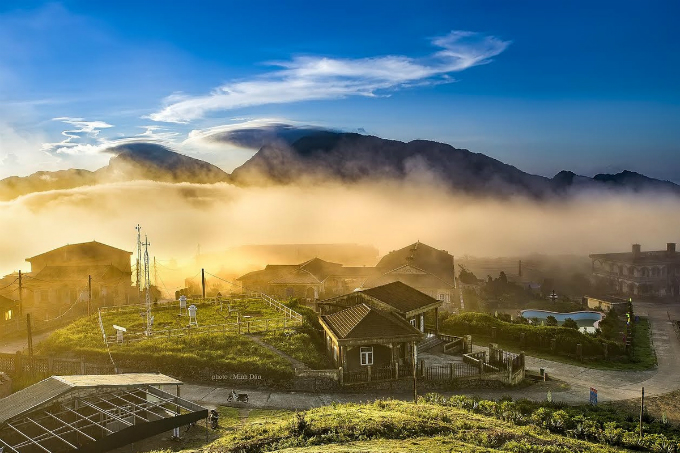 Many photographers spend the night on the mountain and wake up at 3 a.m. just to capture the right moment.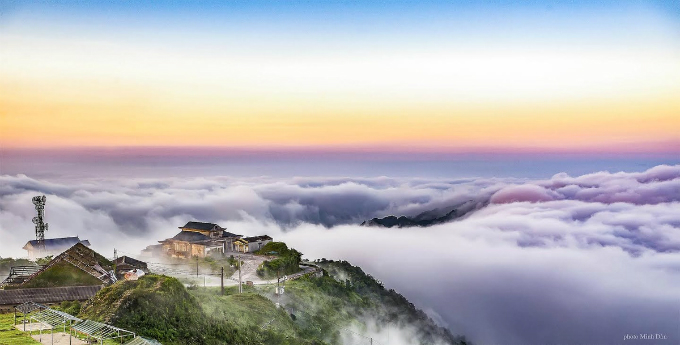 Heaven meets earth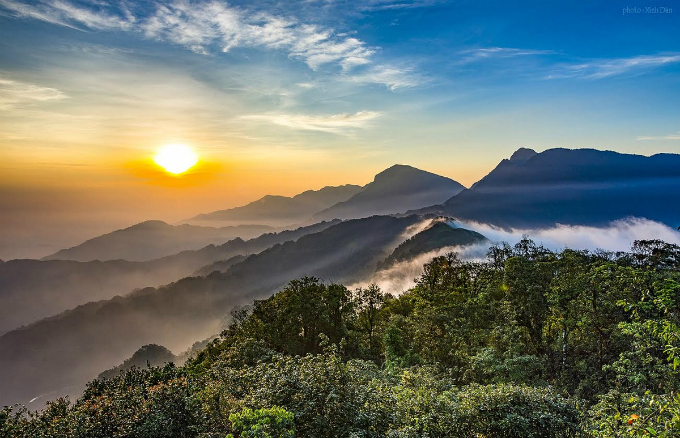 Sunrise from the mountain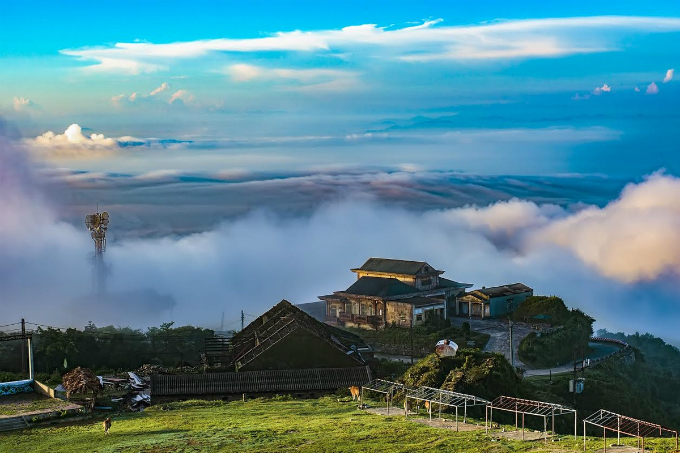 Some of the mountain-top houses were built by the French and have stood the tests of time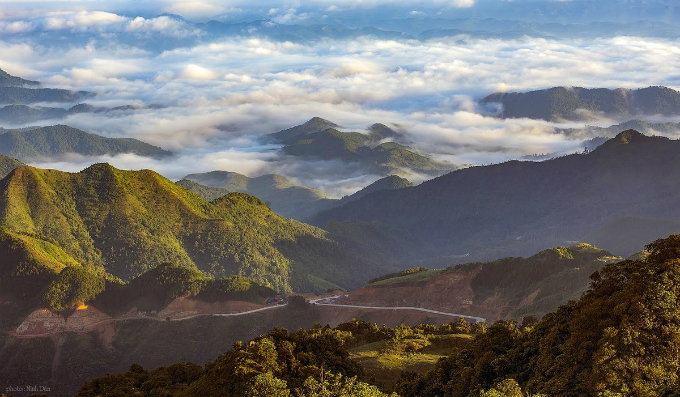 Paths curving around the mountain tempt itchy feet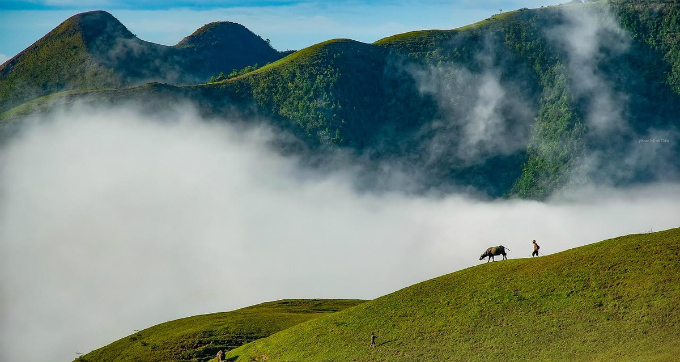 Farmers graze their cattle on the mountain.
Nowadays, tourists can sample delicacies made from forest vegetables and animals at a dinner with a local family; watch the skilful hands of women as they embroider traditional clothing; or listen to panpipe performances by young men. Visitors can also drink Mau Son wine, which is distilled by the local people using special herbs unique to the area.
Mau Son tea is also famous for its fragrance; it is made from tea buds plucked from the mountain's vast tea fields. Nui Cha (Father Mountain) rests appropriately opposite Mau Son. The patriarchal mount is also covered with hundreds of small hills cloaked in deep green vegetation.
There are many inns on Mau Son's top, which are quite comfortable, pricing from (USD7.5-12.5)/double room/night. Food is not available on Mau Son so visitors should reserve food at inns or bring food from Lang Son City with them. Local specialties that they should taste are roast suckling pork, roast duck, frog, grilled chicken, bamboo-tube rice, pork cooked with mac mat leaves, and wild vegetables like chayote, ngot or banana inflorescence.
On the top of Mau Son, visitors can buy pure bee's honey and honeycomb from ethnic minority people. When the night falls, visitors can relax by soaking their body in tubs with medicinal herbs of the Dao people, then tasting local food and drink such as San Tuyet tea, which only grows on the mountains in the two districts of Cao Lac and Luc Binh.
Surrounded by wild nature and cold mountain wind, visitors can also taste Mau Son wine, which is distilled from mountain spring water and special remedies. Tourists can buy this kind of wine at inns, pricing from 0.5-1 USD per litre.