Merry Christmas in Vietnamese is "Chúc Mừng Giáng Sinh"!
Although a predominantly Buddhist country, Christmas in Vietnam is still one of big annual religious festivals including the Lunar New Year, the mid-autumn festival and Buddha's birthday. The festival is observed here with great gusto despite the fact that Buddhism is the dominant religion in Vietnam and Christians form only a minority. If you are planning for Vietnam trips during Christmas time, especially in main cities like Hanoi and Sai Gon, you will have opportunity to enjoy the Christmas atmosphere which have spread and covered almost every corner.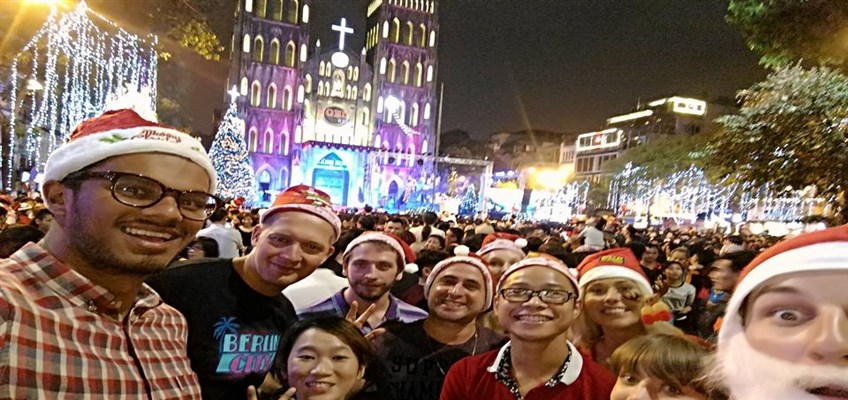 How is Christmas celebrated in Vietnam?
Almost churches such as the Notre Dame Cathedral in Ho Chi Minh City or Saint Joseph Cathedral (the Big Church) in Hanoi, and some Christian home, will have a nativity crib scene or "creche". Many Catholic churches have a big scene with nearly life size statues of Mary, Joseph, baby Jesus, the shepherds and animals. There are also sparkling lighting decorations on trees on the streets and in front of houses, turning particular places into Christmas area. These are popular for Vietnam tourists to visit and look at the scenes. Usually the shops will have their signs advertising sales for Christmas seasons.
On Christmas Eve, not only Christians in Vietnam but also many locals, especially young people, like to go into the city centre, where there is a Catholic Cathedral to attend a Midnight Mass. They enjoy the event by throwing confetti, taking pictures and enjoying the Christmas decorations and lights of big hotels and department stores. Lots of cafes and restaurants are open for people to enjoy a snack! Then, return home to a spectacular Christmas dinner with chicken soup, the well-heeled tuck replacing the turkey and Christmas pudding. The family would gather together, pray for blessings and practice the Yuletide spirit of giving and sharing. Plan a Vietnam family holiday to experience these activities
---
What can a Vietnam tourist do for Noel time?
Sight-seeing, taking photos and shopping
One of the many things that tourists do during Christmas is to go around the city center, join in the crowd of locals and take photos. At this time of the year, churches, shopping centers and office buildings are decorated with sparkling lights and beautiful scenes for customers to take photos. In Ho Chi Minh city, Sai Gon Square, Diamond Plaza, Vincom Center, Paragon Plaza, and Nguyen Hue pedestrian street are the most popular venues.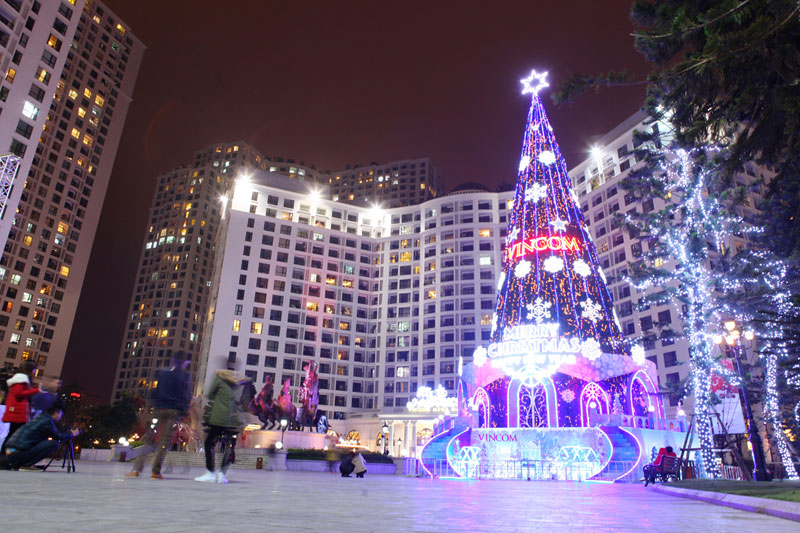 If it is a tour in Hanoi, making full use of your Vietnam tours to walk around Hanoi's Old Quarter should be a good idea since it may remind you of your hometown with Christmas Trees being put up in front of restaurants; snowmen made from cotton near Ice-cream shops or numbers of Santa and his reindeers on sides of clothe stores.
One place you should not miss is Hang Ma Street which always catches up with the trend by selling ornaments in special events like Christmas, International Children's Day, Mid-Autumn Festival, and Tet Holiday . Anything you need to decorate your Christmas tree as well as gifts and greeting cards can easily be found here with low prices.
There are many churches around Hanoi in which Vietnam tourists may enjoy a wide variety of religious activities as well as hymns singing and other music performance, including Saint Joseph Cathedral (40 Nha Trung Street, Hoan Kiem), Ham Long Church (21 Ham Long Street, Hoan Kiem) or Cua Bac Church (56 Phan Dinh Phung, Ba Dinh).
Dinner buffets with Christmas theme
Christmas is when big hotels and restaurants offer the most luxury buffet party and hilarious music performance. With the price range from USD 50-55, you can add a luxury Christmas night buffet at Hilton Hanoi Opera, Melia Hanoi or Hanoi Daewoo into your Vietnam tour itinerary.
In Ho Chi Minh city, Continental Hotel (132-134 Dong Khoi Street, District 1. Ho Chi Minh City), hold many entertaining activities happening to ensure the best Christmas experience for diners. The price is about $50/ adult and $30/ child. Customers may need to book in advance. The buffet starts at 10:30 p.m on December 24 and does not end until 1 a.m. on the following day.