The city of Da Nang is the third largest in Vietnam and has had a tragic yet fascinating history. Such a pity, because lots of people just don't realise that there are so many amazing things to do in Da Nang! Many people find themselves being short on time for your Vietnam tours, and rush through Vietnam only aiming for the main destinations like Hanoi, Ho Chi Minh City and Ha Long Bay. The common theme is to fly or catch the train into Da Nang and head straight to the fascinating UNESCO World Heritage Site of Hoi An, only 30km away, and My Son Sanctuary where a collection of temples of The Cham Kingdom between the 4th and 14th centuries is located. Tourists often use the city simply as a transit stop, and they miss out on so much.
Da Nang attracts tourists by not only the natural beauty the sparkling and colorful lights from the bridges along the Han River but also being a center for both national and international event and festival with a variety of unique activities. Also, for truly feeling the essence and the soul of this city, tourists should not miss visiting the traditional markets in order to enjoy the local cuisine and experience the daily life of the local people to really feel the friendliness of Da Nang City. Enjoy your time in Da Nang and create your own remarkable memories for your holiday in Vietnam, welcome to Da Nang, welcome to our fantastic city!
If you're looking for unique or adventure activities, Da Nang should be on your list. Here is a list of those that you simply can't miss when you're in the area.
---
#1 Double decker bus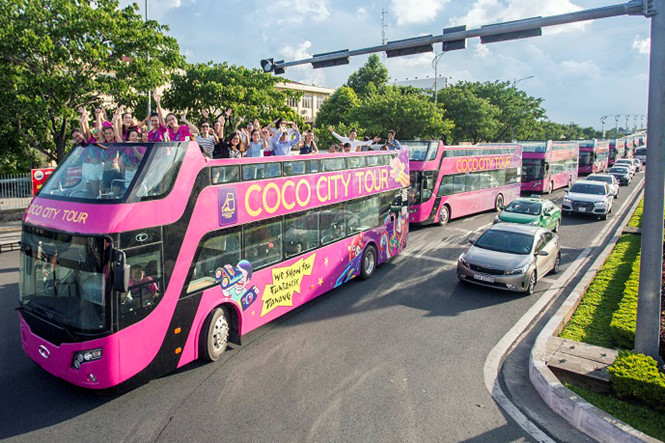 Since the end of August 2017, the omnibus was officially launched in Danang, which is very convenient for tourists. Two routes are available. The first route starts from Danang International Airport through the city center and ends at the Southern region with 25 stops. The second one starts from Danang International Airport through Northern city, passing by Son Tra Peninsula with over 18 stops.
There are mini bars, sensor screen system displaying multi – language, pictures and GPS, which can automatically introduce to the foreign tourists the sites and the stops. The public price ticket is 250,000VND and valid within 24 hours applied to both routes. Now the price ticket is 50% discount until the end of November 2017.
#2 Dragon Bridge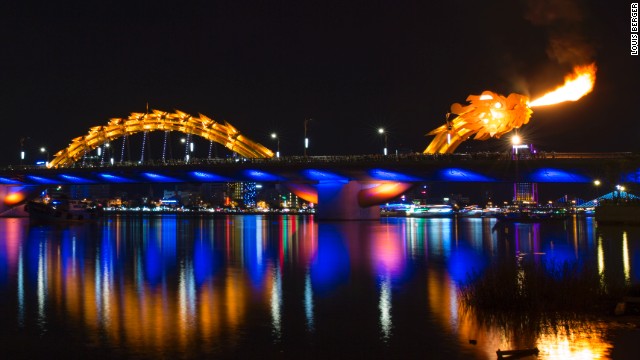 Dragon Bridge, a new symbol of Danang always attracts tourists during the weekend as this bridge sprays fire and water. From 9 PM, many tourists and local people stand under the bridge or along two banks of Han river or inside the nearby buildings. All the vehicles have to stop in 15 minutes during the time spraying fire and water. Don't miss out this if you travel in Danang on weekend for you Vietnam tour.
#3 Paragliding
For all the people who are not afraid of height, operated by Danang paragliding club, paraglidingis worth trying. Tourists should book in advance with pilots at least 2 weeks before flying time. The price for joining 15 – minute flying is 1.3 million VND. By the way, the flight schedule and time also depend on the weather condition. You can't fly under these conditions: foggy or rainy weather, after 4 PM with limited visibility and deviate wind. The player should prepare sun cream, helmets and have a health check carefully before joining.
#4 Have a panoramic view of the city from helicopter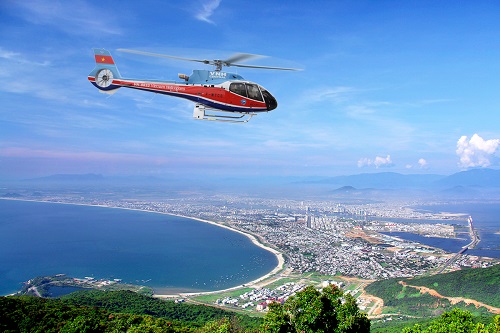 The helicopter takes off from Nuoc Man airport and flies to Marble Mountains. Then, it flies back to Dragon Bridge, along Han river for visitors having an overview of Han river bridge, ThuanPhuoc Bridge and all the city's amazing architectures.
When the helicopter reaches Son Tra Peninsula, it glides to the sea to watch Vietnam's biggest Guanyin statue before flying back to Nuoc Man airport. This activity costs you 2.5 million VND for 15 minutes.
#5 Onsen Bathing like a Japanese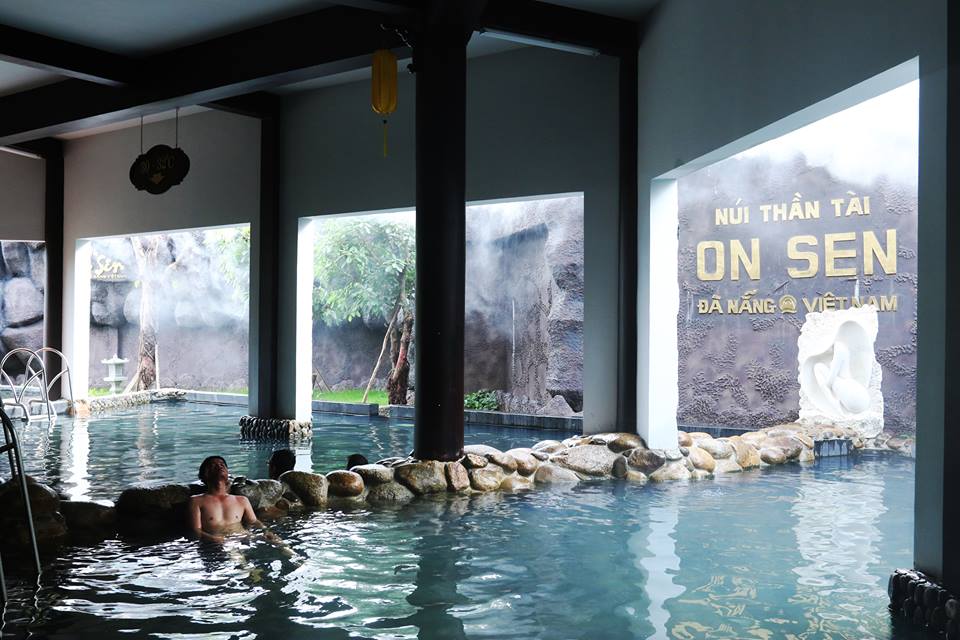 First time ever Japanese Onsen bathing is available in Danang and this kind of relaxing is many tourists' favorite. Onsen bathing tower is covered by Thanh Long and Bach Ho mountains, behind is Ba Na mountain. There are 2 private zones for men and women with the capacity of 100 people separately. The ticket price for 1 personis 150,000VND for public bath or from 200,000 – 1.2 million VND for private bathtub for 2-8 people.
Contact us (sales@indochinacharmtours.com) to book a Danang, Vietnam tour right now.