When visiting Ha Long bay for Vietnam tour, many cruises and tours are awaiting to take you around this World Heritage Site. However, you are confusing to book 3 days 2 nights (3D2N) itinerary or 2 days 1 night (2D1N) one. Which one is long enough and sufficiently interesting for your experience on this impressive attraction. Here are compararison and some sharing that can facilitate you to choose the right itinerary.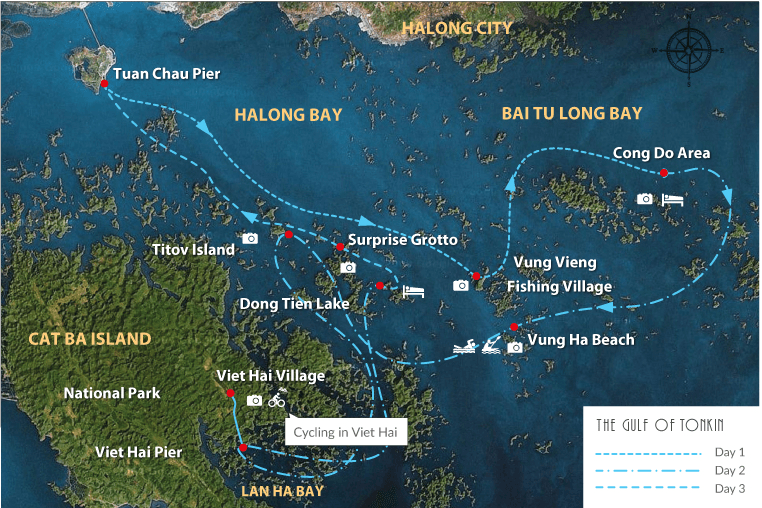 An example of Halong Bay cruise itineraries
What are similar between 2 cruise itineraries?
Time: Every cruise itinerary always starts by picking up visitors at around 8am on the first day to take them on the 3.5-4 hour journey riding from hotels in Hanoi to Tuan Chau harbor (Quang Ninh province) in order to embark on cruise. It is an interesting time that you enjoy some of Vietnam's beautiful countryside, with imposing mountains, lush green paddy fields, and romantic rivers. You will reach your destination by noon time (12-12:30 pm) for check-in.
Main activities: In general, both trips have the same itineraries on the first and the last day. After getting onboard your cruise, you will be briefed about itinerary and safety guidance by a Vietnam tour guide followed by a delectable lunch as the cruise among the limestone islands of Ha Long Bay. You will take a visit to one of the many magnificent caves and grottos or local fishing village. In the late afternoon, it is time to experience kayaking or swimming. An excellent dinner will be served on board to finish the first day on the bay. On the following morning, all cruise hold a Tai Chi class on the sundeck and every tourists will join in before breakfast. The cruise continues sailing as you continue to enjoy the truly marvelous landscape. The tour will keep on journey or end of services at noon depending on your chosen itinerary for holiday in Vietnam.
How are they different?
Because of the difference in the trip duration, a longer itinerary not only give you more time to relax, explore more views and islets or take part in more extra activities so that you get a deeper understanding the culture and nature beauty of Ha Long bay but also provides other options of where you can spend the night. Many cruises add one night in a bungalow or hotel on Cat Ba island together with a night on the boat. It is clear that you will also have opportunity to discover Cat ba island where you can swimming, biking, hiking or going shopping. This is really excellent moments to immerse yourself in the nature of Halong Bay.
Which should be booked?
It is not too serious to have a final decision for a Ha Long Bay trip if you…
Define your needs as well as travelling goals
Right when beginning to plan your trip to Ha Long bay, you must have set your primary goals in visiting this unique World Heritage Site and chosen an appropriate itinerary. Depending on your needs, you should determine if you want to spend your time relaxing or desire to explore all that Halong Bay has to offer. If your expectation is finding a peaceful sea place in which to enjoy your time and unwind after busy working days while cruising through the awesome scenery, the 3D2N itinerary will satisfy your needs perfectly on the second day of itinerary. On the contrast, with the 2D1N trip, you have to move back to Hanoi at the noon time of the second day. In addition, 2D1N is not perfectly long enough for those who like to relax and enjoy extra activities because walking through the cave after a long movement by bus in the morning and experiencing can be quite arduous.
Consider your budget and time
Financial limitation is also a crucial element in any other Vietnam tour packages, not just your Halong Bay cruise itinerary. Whether budget is not a big issue as well as you can spend more time to experience a relaxing on cruise trip with your partner, the five-star 3D2N cruise will be a good choice to guarantee you a perfect time of peace and quiet. In contrasts, because of the tight budget and time limitation but expecting to visit the popular sights of Ha Long bay, then the 2D1N itinerary will adequately match your needs.
The weather of Halong Bay has 2 major seasons, summer and winter. For summer time, you should check for rain or bad weather such as tropical storm in advance for a cruise tour. Some Western travelers who are hard to cope with the excessive temperatures in summer should choose 2D1N program if they visit Ha Long bay on that period.
If you are from hot countries and want to enjoy fully many activities on your 3D2N trip, it is better to avoid visiting Halong Bay between November and February, as it can get quite cold temperatures fluctuating around 15-19º Celsius. The other months are fine with clear blue sky and hot weather which is ideal for kayaking and swimming.